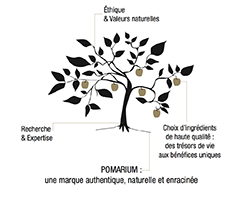 Listening to the needs,
Understanding and exalting the beauty of Men and Women,
Creating innovative, sincere and authentic products,
Keeping the promises,
Here is POMARIUM philosophy,
In perfect harmony with the values and commitments so dear to its founder, POMARIUM draws on the orchard some living treasures to develop incredibly sensorial products. Their effectiveness and quality are based on years of scientific research and multidisciplinary expertise.
Pomarium took these fruits bursting with skin-caring active ingredients, and created the most exceptional skincare products.